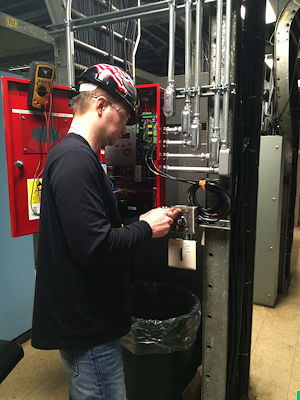 ARCO Protection Systems is a diversified specialty contractor that installs, services, and maintains premium fire protection systems and products.
As a single-source contractor, we have the resources, factory support, licensing, and in-house labor to support any fire protection system you may have or need.
For new installations, we will start with your design or we will design-build with our in-house engineers based on your fire protection needs and budget. Through cost analysis, we will incorporate a "turn-key" package without the need to have multiple subcontractors.
"One Call, One Source, One Point of Accountability"
Having the proper authorized distribution, highly trained staff and required licensing, we are your true single source fire protection contractor. Please call with any questions or requests for literature.
We represent the following manufacturers:
Notifier, division of Honeywell – Fire Alarm
Fire-Lite Alarms, division of Honeywell – Fire Alarm
System Sensor, division of Honeywell – Fire Alarm
Xtralis/VESDA – Very Early Warning Fire Alarm
Fike – Gaseous Fire Suppression
Janus – Gaseous Fire Suppression
Reliable Sprinkler Corp. – Sprinkler Systems
Viking Sprinkler Corp. – Sprinkler Systems
Victaulic – Sprinkler Systems/Fittings
Watts – Backflow Devices
Gast – Air Compressors/Air Maintenance Devices
Engineered Corrosion Solutions, Inc. – Nitrogen Generators.
Buckeye Fire Equipment Company – Fire Extinguisher
If your system is not listed above, please call as we service many other manufactured systems, new, old and obsolete.
Products
Fire Alarm Systems
Automatic fire detection.
High sensitivity aspirating smoke detection (VESDA).
Linear Heat Detection.
High rise voice communication.
Computerized monitoring graphic annunciation.
Mass notification emergency communication.
Central station monitoring.

Clean Agent Gaseous Fire Suppression Systems
Water-based fire suppression systems (sprinklers) are designed to protect people and structures. But when it comes to protecting high value machinery, computers and other electronic equipment, water can be more damaging than the fire itself. A clean agent fire suppression system is the superior, cost-effective choice for protecting electronics and high-value assets – reducing the threat of needless downtime and business interruption.
APPLICATIONS
Computer rooms
Telecommunication centers
Records and data archives
Testing / imaging equipment
Reference material
Clean rooms
Chemical laboratories
Control rooms
Flammable liquid storage
Offshore drilling rigs
Robotic equipment
Textile manufacturing
Electric utility facilities
Media storage
Military vehicles
Art / artifacts / historical collections
MOST COMMON SYSTEM TYPES
FM200/FE25
NOVEC 1230
INERGEN
CARBON DIOXIDE (CO2)
Specialized Fire Suppression Systems & Services
Water mist fire systems.
Foam systems.
Dry Chemical.
Preaction, deluge, dry, and wet sprinkler.
Fire Hydrant Systems.
Nitrogen generating for sprinkler corrosion control.
Kitchen hood extinguishing systems.
Halon 1301 services, recycling and replacements.
Sprinkler pipe internal camera investigation and corrosion remediation.
Room Integrity Testing, as required for clean agent suppression systems for acceptance and annual re-certifications.
Nitrogen Generator & Corrosion Control
Nitrogen Generators are becoming the standard in fire sprinkler corrosion control.
ARCO Protection Systems, Inc. offers a complete line of generators and services to fit your need.
Services include standard air compressor replacements, assessment services, analytical services and customer support.
Solutions for suspected MIC (Microbiologically Influenced Corrosion).
Internal Video Scoping.
Pipe Replacement and Remediation.
Project Specific Corrosion Control Programs.
Water and Deposit Sample Analysis.
Portable Fire Extinguishers
A fire extinguisher is an active fire protection device used to extinguish or control small fires, often in emergency situations. It is not intended for use on an out-of-control fire, such as one which has reached the ceiling, endangers the user (i.e., no escape route, smoke, explosion hazard, etc.), or otherwise requires the expertise of a fire department. Typically, a fire extinguisher consists of a hand-held cylindrical pressure vessel containing an agent which can be discharged to extinguish a fire.
Fire extinguishers in all commercial buildings are generally required to be serviced and inspected by a fire protection service company, like ARCO Protection Systems, at least annually. Some jurisdictions, however, may require more frequent service for fire extinguishers. The standard that governs portable fire extinguishers is NFPA 10, Standard for Portable Fire Extinguishers.
Fire Pumps
A fire pump is a part of a fire sprinkler system's water supply and can be powered by electric, diesel or steam. The pump intake is either connected to the public underground water supply piping, or a static water source (e.g., tank, reservoir, lake). The pump provides water flow at a higher pressure to the sprinkler system risers and hose standpipes. A fire pump is tested and listed for its use specifically for fire service by a nationally recognized testing laboratory and listing agency, such as UL or FM Global. The standard that governs fire pump installations is the National Fire Protection Association's NFPA 20, Standard for the Installation of Stationary Pumps for Fire Protection.
A jockey pump is a small pump connected to a fire sprinkler system and is intended to maintain pressure in a fire protection piping system to an artificially high level so that the operation of a single fire sprinkler will cause a pressure drop which will be sensed by the fire pump automatic controller, causing the fire pump to start. The jockey pump is essentially a portion of the fire pump's control system. The applicable standard for a jockey pump is NFPA 20.
Fire pumps and jockey pumps are inspected per NFPA 25, Standard for the Inspection, Testing, and Maintenance of Water-Based Fire Protection Systems.